The skills that Passport to Success cultivates are known by many names: soft skills, social-emotional skills, essential skills, 21st century skills, power skills, noncognitive skills, work readiness skills, and the list goes on. With so many options, why did we choose life skills?
For nearly 30 years, the International Youth Foundation, creator of PTS, has taken a holistic approach to youth development. This means equipping young people to meet their full potential as individuals with aspirations and as family members, heads of households, students, earners, employees, taxpayers, leaders, and citizens.
IYF's Life Skills Framework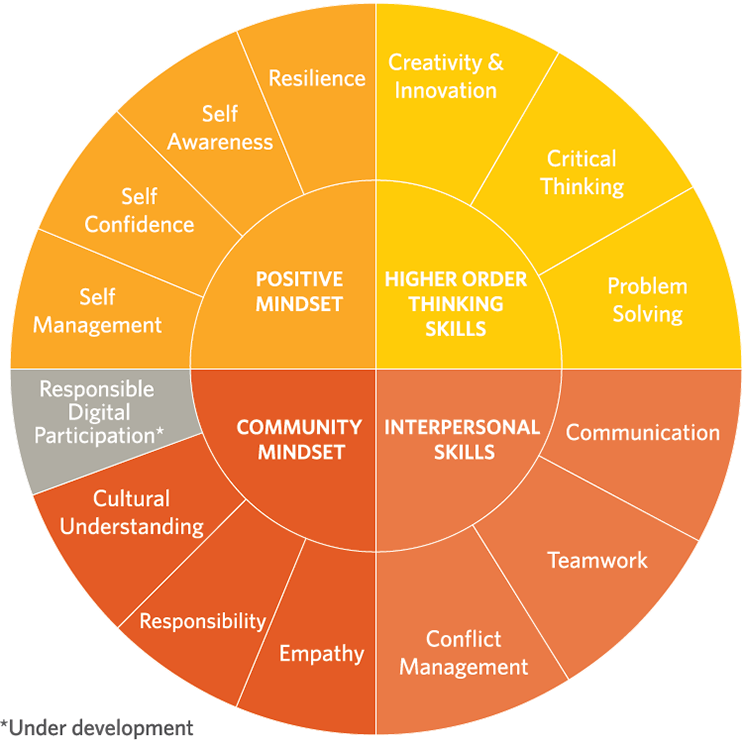 To deliver on the PTS name, these are the skills that young people need to truly succeed from home to school to work and career. We call them "life skills" to encompass the ways self-confidence, responsibility, teamwork, and communication—to name just a few—are transferable across a day, career, and lifetime. They are as necessary to navigating the relationships and day-to-day decisions that determine success in a family as they are on the job, at school, and within a community.
Based on our breadth of experience with PTS, we have avoided labels that too narrowly describe the benefits of this training or the scope or applicability of these skills. We've chosen a term that conveys the lifelong advantages that accompany this learning—benefits shared within families, workplaces, and societies.
Just as a parent wants a daughter or son to be reliable, an employer needs to be able to count on a young newcomer to show up on time and deliver. Just as a teacher or instructor wants to see students learn, progress, and graduate, companies want to retain and promote employees. Likewise, governments want gainfully employed young people to find the stability they seek. One set of skills—life skills—enables all of this growth.
Regardless of your preferred terminology, know we are all on the same page in terms of equipping young people with the skills that can enable their growth on their chosen path. If you share this goal and vision, join us!